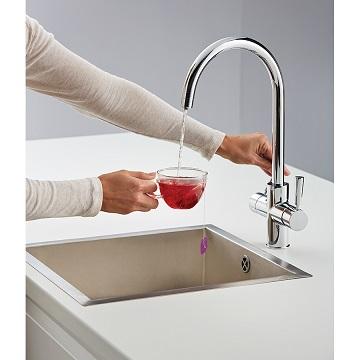 New Redring Reditap – 3in1 tap
The New Redring Reditap – 3in1 tap. It has got a 2-litre water tank for the boiling water, with also hot and cold water mixer. This is an attractive and very affordable 3in1 kitchen mixer tap. That dispenses Boiling water and also Hot and Cold mixing water. It is available in two different finishes. Bright Chrome or Brushed Nickel to suit your kitchen.
The Reditap uses a very compact 2 litre tank. That offers more boiling water than normal domestic kettles and takes up a very small amount of cupboard space. The tank is very accessible to be able to descale and inspect the tank if required.
With its 2 year UK warranty and excellent value for money. It really does make this a competitor to the Quooker Fusion tap or the Insinkerator Range. The water tank comes with a drain valve which is included and a 1 metre power cable.
The Reditap has got a safety tap control on the boiling side. This prevents it from being used by mistake on one side. On the other side, it has got the Hot and Cold water mixer, so it is kept separate to the boiling lever. This operates at a low water pressure however, it is still able to maintain a really good flow rate of up to 1.5 litres on instant draw off.
This is the ideal boiling kitchen 3in1 tap due to the compact undersink tank size. Along with the great price for such a high-quality product. With being cheaper than its other direct competitors who offer the same functions. We find this a fantastic product to offer out to our customers.
For any information on New Redring Reditap - 3in1 tap or any of the products that we have on our site then feel free to contact us on 01935 253600.