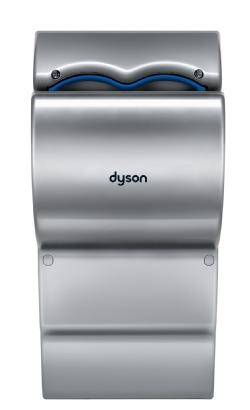 Since the launch of the Dyson Airblade years ago, more and more hand dryers have appeared on the market which are operated by putting your hands in them rather than putting your hands under them. Nowadays, there are over 30 different hands-in dryers on the UK market, and many of them outperform the Dyson Airblade hand dryer in several different ways.
Here, we take a look at 3 alternatives to the Dyson, and see what they have to offer.
Dyson set the standard for high-quality, high-status hand dryers, and they had the price ticket to match. Today they are still one of the most expensive hand dryers available on the market but their market share has fallen dramatically against some interesting competition.
The Mitsubishi Slim Blade Dryer
For example, probable the most credible competitor for them, which matchers or exceeds their specification in every important category, is the Mitsubishi Slim hand-in dryer from Mitsubishi Electric.
Obviously it comes with an excellent brand pedigree, but it is also quieter, and arguably a lot more stylish in appearance. On top of this, it has internal switches to allow you to turn down the speed of the motor and the heating element: the result is a comfortable experience in both winter and summer, and savings on your electricity bill.
But perhaps the best improvement is the removable drip tray, which catches the water as it is scraped from the hands, rather than letting it spill over the floor (like the Dyson). This anti-bacterial tray can be removed for emptying if full, although unless the dryer is in a very high use area, this is very infrequently required.
Despite all of this, the Mitsubishi will save you over £200 per unit compared with the Dyson, and is one of our favourite dryers.
The ATC Premium Blade Hand Dryer
Another hands-in dryer worth adding to your shortlist is the ATC Premium in Silver. This is part of an excellent line-up of dryers and if you need to move down in price from the Mitsubishi this is definitely a strong contender. Like the Mitsubishi, it also has a removable drip tray and you can adjust the heater via an on/off switch, although the fan speed is not switchable.
In addition, it comes with a removable HEPA filter, and uses an internal UV light to reduce any bacterial build-up on that filter. The 3 year (Return-To-Base) warranty is also a real plus point.
The Jetbox Blade
And finally, a hands-in dryer which, although it is the cheapest on the UK market, comes with an amazing set of features. The Jetbox Blade hand dryer has the built-in drip tray of the ATC and the Mitsubishi, and the HEPA filter of the Dyson and ATC, but also comes with switchable heater element and switchable fan speed. It includes a 2 year warranty, and has a fast drying speed. Although we wouldn't recommend it for a very high usage area such as a motorway service station or a sports stadium, in medium or low usage areas, it is a fantastic choice.
Conclusion
So, as you can see, there are many hands-in hand dryers available now but the 3 we have described above should make your decision a lot easier. Should you need any more information on your choice of hand dryer, please feel free to call one of our renowned hand dryer nerds on 01934 253600 and they'll be happy to talk hand dryers all day, if you'll let them.