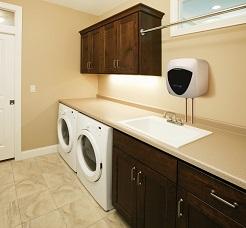 Ariston have been producing small unvented water heaters for many years. They adopt a no-nonsense approach and the fact that they have become market leaders in this sector is not surprising.
The current Ariston Andris Lux products have modern, clean lines and don't look too much like a typical water heater. We've heard the words 'stylish' and 'elegant' used, but perhaps 'not unattractive' might be a bit more appropriate.
The selection process generally boils down to 2 questions:
Which size do I need?
It's important to get a sufficient amount of hot water for a particular application, but not too much as this may mean that you could be using more energy than you need to, so here are some guidelines:
A small wash hand basin for a cloakroom or ensuite won't need more than 10L for certain. This size, in fact could happily service 2 or 3 basins with no trouble at all.
We would suggest the 15L variant for larger kitchen sinks (even certain commercial kitchen applications too) or for multiple wash hand basin applications.
The 30L version is designed for various commercial applications where multiple basins and sinks need to be supplied with hot water, or perhaps workshops or commercial kitchens where more hot water could be required. This size could potentially be used to supply hot water for a shower, albeit a brief one.
Undersink or Oversink?
The only difference here is where the pipe inlets and outlets are: The undersink versions have the connections at the top of the unit, and of course the oversink versions will have these connections at the bottom. Perhaps a better definition of this type would be 'on the wall' so as not to be confused with a spouted oversink water heater. So this decision is purely down to where you intend to site the water heater.
It is also important to ensure you fit an expansion vessel in most cases – please read this article we created to help you establish this.
Ariston offer 3 kits for various installation needs: Kit A (expansion vessel with non-return valve) Kit B (pressure reducing valve) and Kit C (tundish)
These 3 kits are included as standard with the 30L model.
All these Andris Lux water heaters are really simple to install and easy to operate.
Ariston have now also introduced upgraded versions of these water heaters with some very clever features and you can read about them here.
Better still, give one of our water heating geeks a call on 01934 253600 or have a virtual natter online directly from our website: https://electricaldealsdirect.co.uk