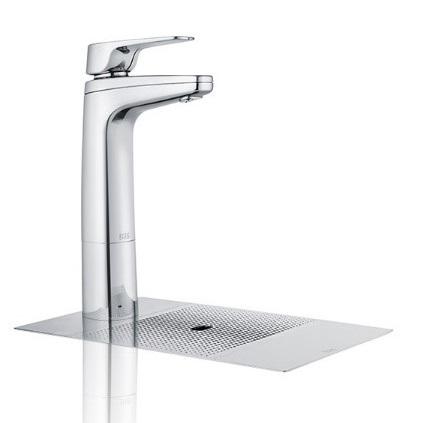 Font or drip tray for my boiling tap
One of the questions we always ask our customers. Whilst helping them to select the right boiling tap for their needs is: 'are you mounting the tap over the sink or are you looking to have it as a free-standing appliance, away from the sink?' As they might require a Font or drip tray for my boiling tap.
We often find that many people don't realise that this is an option. To have the boiling or boiling and chilled tap mounted on or adjacent to its own mini sink, drip tray or font.
We think there are several good reasons you may wish to keep your boiling tap away from the sink:
The tap will become a stand-alone appliance. Giving it the status of a 'beverage station' or 'tea-point' (we've heard plenty of other more pretentious terms, but you get the idea)
It will avoid a cluttered sink. Too many taps mounted over one sink can look untidy in certain installations.
From a health and safety angle. Keeping the boiling tap away from the sink avoids confusion or painful mistakes from either visitors. Or the owner after a glass too many of Chardonnay during the dinner party.
A font and drip tray somehow makes more of a feature of the tap. It allows the filling of jugs and other vessels far easier and safer.
The 2 most prominent brands that offer dedicated drip trays are Zip and Billi.
Both of these have waste tubes/pipes included to allow you to drain to the under sink waste. Although they also both offer a tank waste facility if required (away from the sink).
Zip also offer a drip tray that is not dedicated or integrated in any way, so this could be used for other installations where the brand in use don't have a drip tray offering.
If you'd like some expert advice on these or any other related products, please give one of our boiling tap enthusiasts a call at Electrical Deals Direct on 01934 253600, or email sales@directukdeals.co.uk